Well... that was fast!! I absolutely cannot believe that it's ALREADY time for my monthly update! (as evidenced by the fact that I'm writing this 3 days later than I wanted to... off to a great start in 2018).
I kicked December off with the first styled shoot I've ever put together! I definitely had a LOT of help from the fabulous Jessica Scott at J.Scott Events! (Seriously, if you need an event planner, she's amazing!) And if you follow me on any social media (bless you and thank you!) you've seen that I made a BIG stink about it and then didn't really post anything about it...... well, as far as excuses go, I think it's pretty legit, but I couldn't post about it because I was trying to get it published in a wedding magazine/blog... I still am! But I'm going the non-exclusive route so that I can FINALLY SHARE THEM!! (Post is coming MÁS RAPIDO) buuuuuuuuut who wants to wait for the next post, I definitely don't! So here's more of a sneak peak than I've showed ANYWHERE else!
I got to work with SO many INCREDIBLE vendors! So if you just got engaged or are planning your wedding and need some referrals (along with an awesome photographer *wink*) I got you!
Also in the month of December I started planning SEVERAL other styled shoots along with a MASSIVE GUIDED STYLED SHOOT with my amazing friend Mary of Mary Jessica Photography! I'm seriously SOO excited about all of that and CANNOT wait to share them! (not all of them will have insane build up and then a long-overdue follow up I promise!) And if you're a photographer and want to join me on those shoots (I LOVE PHOTO FRIENDS) send me your email and I'll let you know the second tickets are available! (one of these days I'll get a subscription box on my site (just realized I'm REEEAAALLY lovin parentheses today))
Baby JoJo came early and I got to do my first hospital shoot and will be sharing those shortly as well! Lots of blogging to do! I also got to work with an ad agency to help with a shoot for Coca-Cola and Mission Tortillas which was a blast!! Hopefully, I'll be able to work with them again soon.
The BIG event(s) of the month started on the 16th and didn't end until New Year's Day when we got to fly home for the holidays! It was well anticipated because Nick has been SOO busy and a bit stressed with work that we hadn't spent a ton of time together since he started his new job and so 2 weeks of him not having to work (basically at all) and being together 24/7 was amazing! We got to meet up with a bunch of friends (no pictures because although I am a photographer, I SUCK at remembering to take photos in the moment), do a mini Christmas with MY family (we had Thanksgiving with them so it was a Kerr Christmas this year!), go to a Barker AND a Kerr Christmas party and see our fellow relations and eat amazing food! (And there's literally not a single picture of all of that *facepalm*).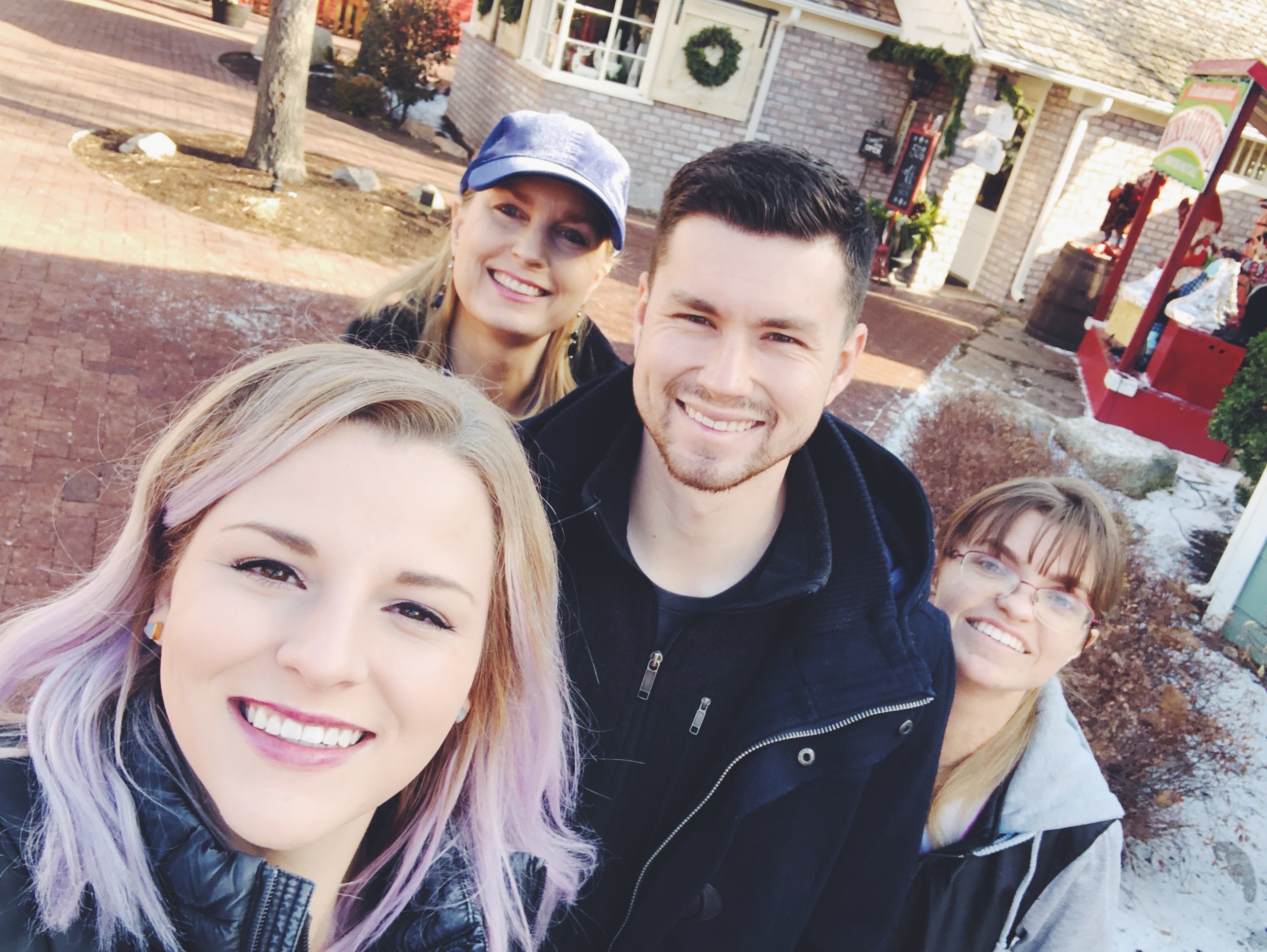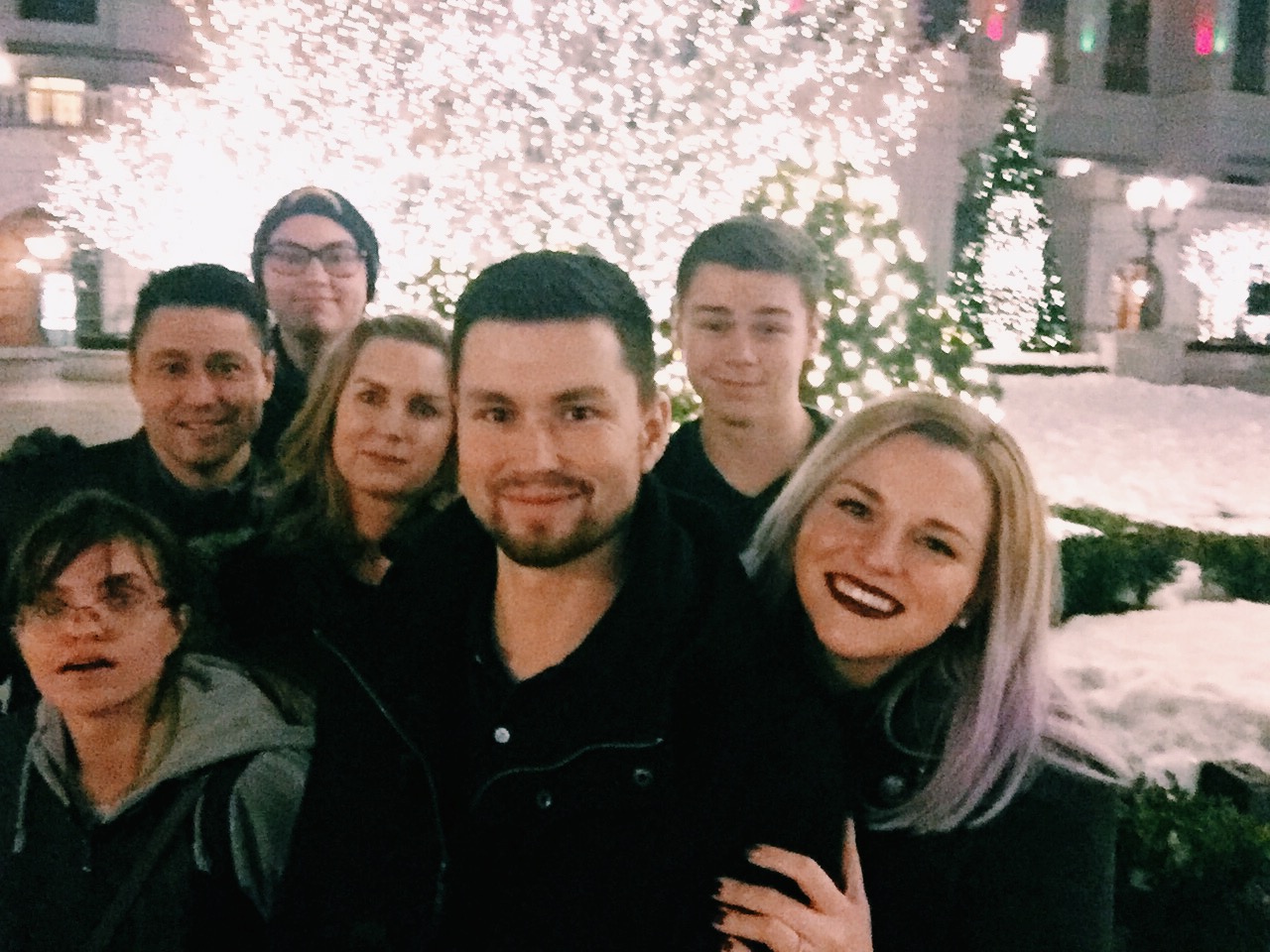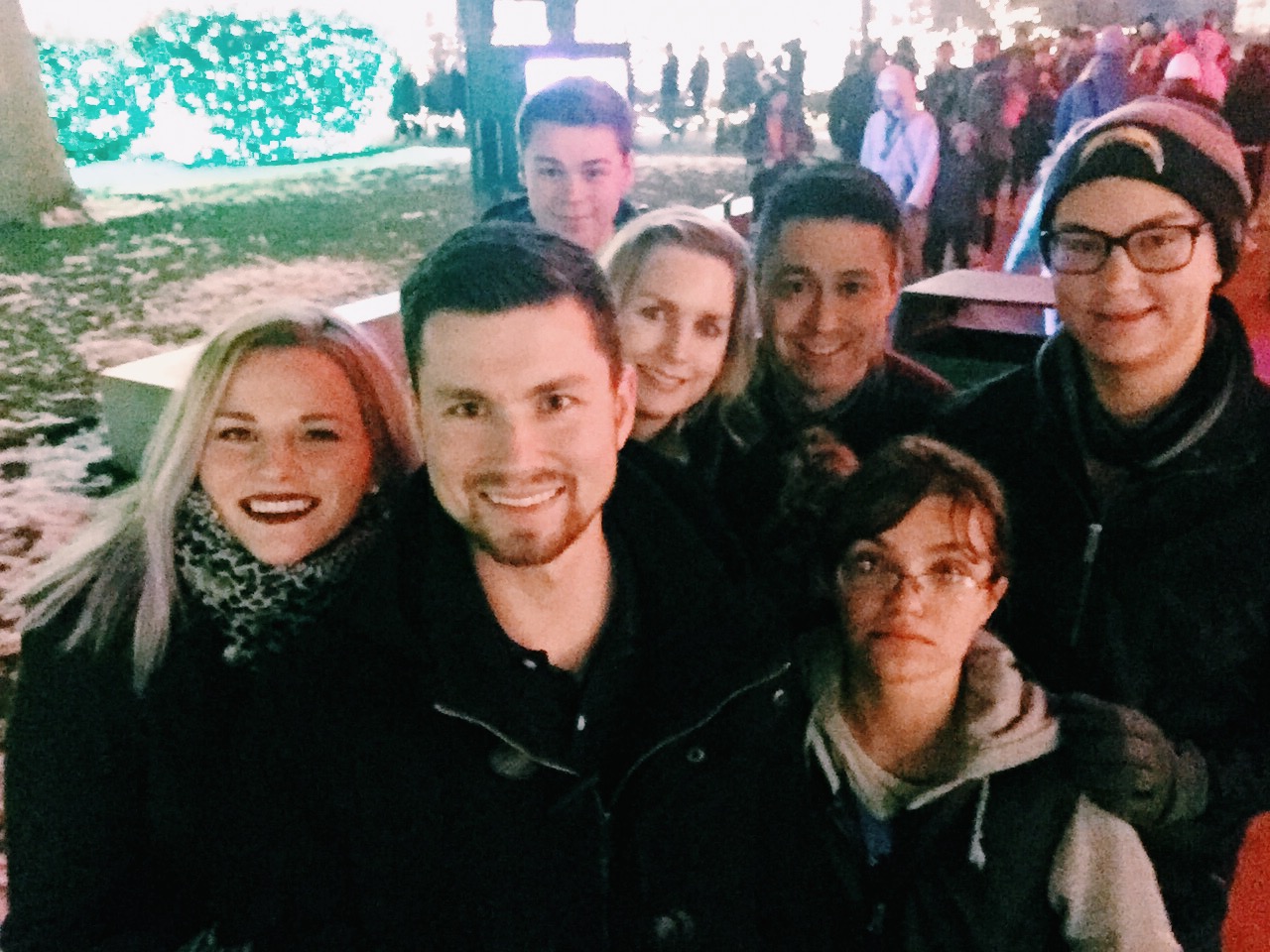 Susan (my amazing Mother-In-Law) and Maddy (my awesome Sister-in-Law) took me and Nick to Gardner Village! It's an old polygamist compound turned shopping center that's actually quite charming! They even have delicious treats and a salt water taffy pulling machine that I could watch for HOURS. We also visited Temple Square with the whole family which was REALLY fun but very cold and stopped by the Grand America Hotel to see the Christmas windows (seriously so amazing! I want to be the one to do it someday!) and the GIANT gingerbread house that was entirely edible (some people tested it...sick) and smelled SOO good! I smelled it before I could see it!
Christmas was the best! We slept in until 8am (I don't think I've done that on Christmas... ever) opened presents, and had THE MOST amazing breakfast featuring a FRENCH TOAST CASSEROLE that was absolutely to DIE for! (Susan, I'm still waiting for that! ;) ) When she send's that I'll post it at the bottom so you all can try it... It's incredible! Since we had our big Christmas dinner on Christmas Eve we went to Macaroni Grill for dinner! It was great because we didn't have to cook OR clean up! We were so stinkin spoilt by all our family and friends! So here's a GIANT WHOPPING THANK YOU to you all!! LOVE YOU!!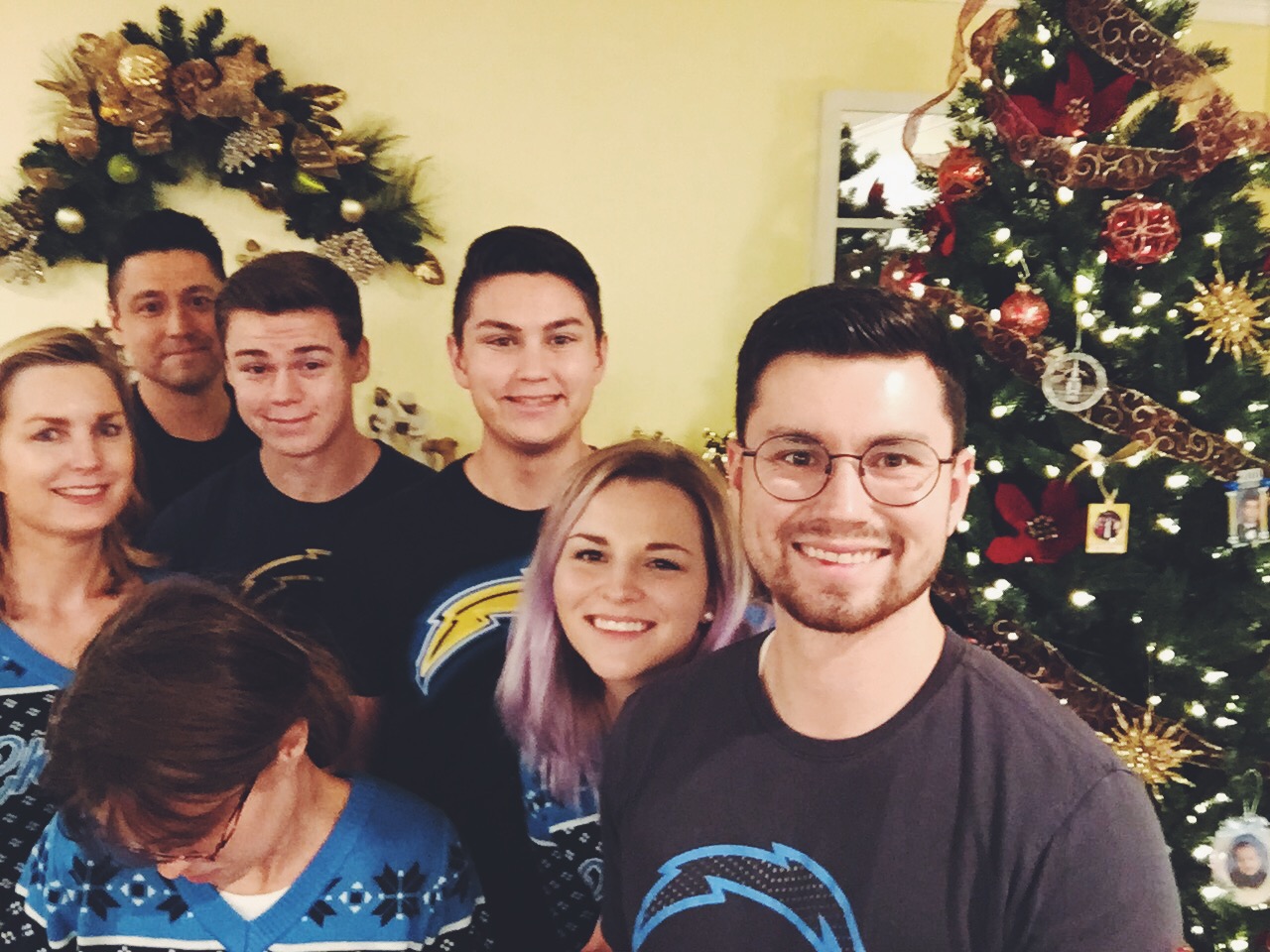 The Kerrs are BIG movie goers. It's kind of our thing! And since Nick & I hadn't gone to a movie in almost 6 months (longest movie draught of our lives) we definitely tried to make up for lost time. We started with Thor: Ragnarok which was definitely our favorite superhero movie yet, followed it with Jumanji (SOOO funny!) which we were PLEASANTLY surprised by, then the new Star Wars which was washed down with The Darkest Hour (10/10 would recommend). For all you history buffs out there who want to nerd out with me... watch The Darkest Hour, followed by Dunkirk (the most beautifully filmed movie of ALL time), followed by The Crown (thank you Netflix!). If anyone else has a more complete and/or better movie/show list of WWII/Winston Churchill's life PLEASE share!! The Kerrs also have the tradition of making gingerbread houses! Before I joined the family, Nick turned the tradition into ginger-massacre-houses (which Ben graciously continued this year). Since I joined the family, the houses have become more designer and Maddy now gives them to her cute nursery kids from church.
NYE we got to go up and visit with my family again for a little while which was a blast! We watched the Chargers kick butt (even through their kicker can't) and attempted to play Rook (a 100 yr old Stoker fam. tradition). Unfortunately, we had to leave before we could REALLY play because Nick & I had to get back in time to pack and have Ben's birthday dinner! One of the Kerr traditions is that you can't have your cake & ice cream until AFTER you say something you like/admire/positive about the person whose birthday it is. So we followed tradition and celebrated in style! And this year, the boys decided to do a Madden tournament because Chris got it for Christmas and the boys just HAD to be competitive.... (as always). The seeds were as follows: 4. Wayne 3. Nick 2. Ben 1. Chris. I'll let you decide who won.
We left for Dallas on New Year's Day which was REALLY hard. We had so much fun with family & friends (and seeing our pup Jack for a second!) and there were SO many people we didn't get to see that we really had wanted to which contributed to the hard factor. Luckily, our original flight was cancelled so we got to leave a few hours later and I got to fly FIRST CLASS!! WHOO BABY! Poor Nick got downgraded from First Class on the original flight to Economy on the one we took and had to sit in the VERY last row... at least it was an isle seat, right babe?? (I honestly don't know how we got First Class to begin with! I know we didn't pay for it!).
2017 was absolutely amazing! In April we got to graduate together from BYU, hung out at the beach in San Diego while celebrating our amazing country (USA! USA! USA!), moved to Dallas which was only made bearable by my amazing family who helped drive us and our crap out here!, I started doing photography full-time, Nick started work for McKinsey & Co. (definitely more than full-time), we found an amazing support system here in Dallas, and now visiting Utah is FUN!!
I'm seriously soo grateful to each of you for the love, support, and motivation you give me! This has been a wild ride and I cannot WAIT to see what 2018 has for us! "2.0.1.8. is gonna be GREAT!" -Edie (our Uber driver)
XOXO meli
P.S. Our beloved Prophet passed away last night at the age of 90. He is an incredible example of Christlike love and of leaving the flock to rescue the one. His life is something I wish to mirror of building relationships and growing together to come unto Christ.
"Never let a problem to be solved become more important than a person to be loved." -President Thomas S. Monson 1927-2018
P.P.S I know I promised a longer explanation on how I do my goals for the year on Instagram and I haven't forgotten! That will come soon! Promise!